Andrea Garner, University of New Brunswick and Melissa Dockrill Garrett, University of New Brunswick
Across Canada, we are witnessing a surge of unrest surrounding 2SLGBTQIA+ policy changes and cultural shifts in education, sparking heated debates and rallies across the country.
Ontario, Manitoba and Alberta have all recently made the news regarding 2SLGBTQIA+ educational issues.
In New Brunswick, the premier and education minister sparked backlash and contentious debate after a recent call to review policy that sets minimum standards for establishing safe, welcoming, inclusive and affirming learning environments for students, families and allies who identify as 2SLGBTQIA+ (Policy 713).
Recently announced changes to the 2020 policy have sparked a volatile debate reflecting polarizing arguments that make false opponents out of parents and teachers.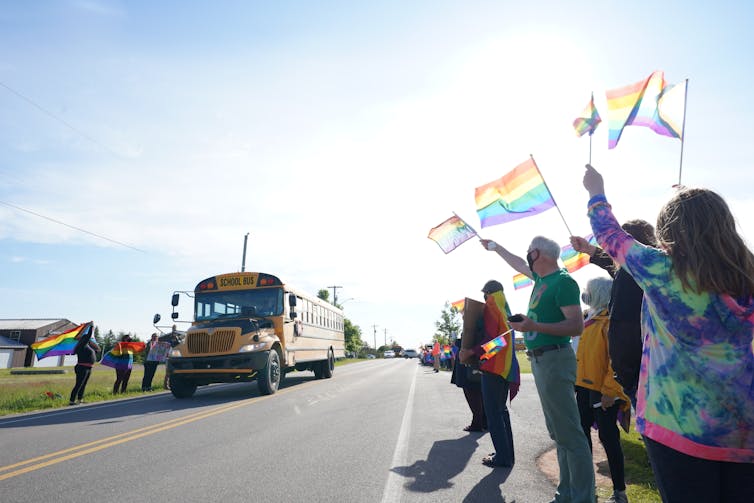 Students' rights to choose pronoun/name
Policy 713 had clearly set guidelines related to supportive school environments, alliances, self-identification and "universal spaces," referring to all schools having at least one universal washroom accessible at all times.
Under the original policy, school staff would consult with a transgender or non-binary student to determine their preferred first name and pronouns. Only if a student under age 16 wished to change their name for official record keeping (such as on a report card), the student was required to get parental consent. The policy also said that when contacting a parent to discuss a students' preferred name, the principal must have the student's informed consent.
Changes to the policy say if students under 16 disagree to get parental consent to change the name used in school record keeping, they would be referred to a social worker or school psychologist "to work with them in the development of a plan to speak with their parents if and when they are ready to do so."
However, CBC reported that when asked whether the changes mean teachers can use a child's preferred name or pronoun informally in the classroom without parental consent, Bill Hogan, New Brunswick's minister of education and early childhood development, said, "According to the policy, they will use the name of the student given at birth."
Members and allies of the 2SLGBTQIA+ community advocate for Policy 713 remaining as written. The Canadian Civil Liberties Association said the changes "violate the rights and dignity" of LGBTQ youth. In a statement, the New Brunswick Association of School Psychologists said the new policy will hurt students and that "misgendering transgender and gender diverse people increases risk of self-harm, suicidal ideation and other mental health concerns."
Precedent across the country
People who support changes to the policy express concerns about parental rights and traditional values. CBC reports that a conservative Christian group based in British Columbia has encouraged supporters to lobby New Brunswick MLAs because what happens in the province could set a precedent across the country.
While the public was assured that stakeholders were being consulted throughout the Department of Education and Early Childhood Development's review process, some students and parents who were consulted did not feel their voices were truly being heard.
Polarized arguments
Recently, there have been outrageous allegations that schools or teachers are "grooming" children for gender transition, or that schools are "keeping children's gender identity secret."
Teachers are caught in the crossfire. Teachers aim to foster students' self-determination (which requires meeting the needs of being one's authentic self in relationships with others, having autonomy and a sense of competence), self-advocacy and safe and inclusive learning environments, but now face being ordered to disregard children's voices.
It is important to understand that parents/guardians and families were not excluded by the original policy. The aim was to ensure "all members of the school environment have the right to self-identify and express themselves without fear of consequences…"
Being positioned as the enemy of parents and children's welfare, at the same time as they are being ordered to refrain from inclusive practices for specific groups, has increased the strain on already drained educators.
Duty of care
To speak of schools or teachers keeping secrets is misleading. Teachers are mandatory reporters. They are legally bound to keep the youth in their care safe from neglect and abuse. There are policies and procedures for this in school boards and in the Education Act.
Teachers also have a duty of care for the safety, well-being and education of all students during school hours. Teachers set the learning environment, but students whether age four, 14 or 17 have agency in the way they engage with the conditions teachers establish.
An educator's ability to support students' thriving is grounded in the relationships built with students, their families and their communities. Collaboration and co-operative planning with the child or young person are essential, and involving their guardians and community however possible, is ideal.
A team approach hopefully results in young people positively constructing their identities, discovering their interests and passions and exploring possibilities through academic and social aspects of school life.
However, for some this journey is harder than for others.
Supporting students' self-advocacy
Outside of mandatory reporting, teachers make professional judgements grounded in a firm framework of ethical practice, policy guidelines, knowledge of students and consultation when required.
If a student shares something with a trusted person like a teacher and there is no cause for concern, teachers maintain neutrality and confidentiality. Teachers strive to affirm (not encourage) what the student is telling them. Teachers offer a non-judgemental space, and support young people to self-advocate or co-advocate to build relationships with adults and community members in their lives.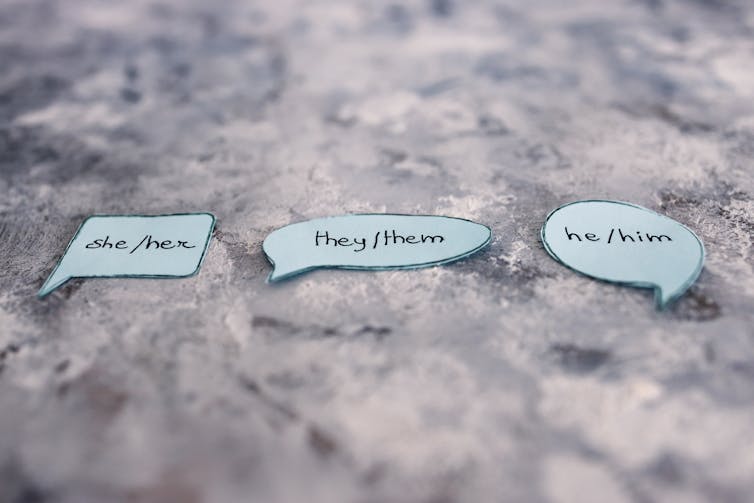 Refusing to honour a student's request to be called by a name or pronoun they prefer, or insisting they see a counsellor or psychologist, could diminish trust between a student and their teachers and families.
This would isolate the student, with neither families nor teachers as allies, potentially putting the student at greater risk.
Reducing stigma
It is crucial to address the source of marginalization, which is discrimination.
We need to provide support to children and youth on a case-by-case basis. Education plays a vital role in reducing stigma, dismantling prejudice and discrimination, promoting acceptance and nurturing a diverse and vibrant society.
Schools must continue to be inclusive and foster cultures of equity, acceptance and compassion where each student is valued and honoured for who they are.

Andrea Garner, Assistant Professor, Faculty of Education, University of New Brunswick and Melissa Dockrill Garrett, Assistant Professor, Faculty of Education, University of New Brunswick
This article is republished from The Conversation under a Creative Commons license. Read the original article.